Because of COVID-19 we cannot organize art exhibitions.
You receive 20% discount at all art works online for sales, lease and rent!
Back to the overview
Weeping Frog Woman
Francis Horne sr. (1954 – First Nation)
This unique artwork comes from a private collection and is made by artist Francis Horne sr. It is made from spalted alder from British Columbia and decorated with beautiful abalone shells. The artwork visualises a crying woman with frogs around her. In First Nations cultures, frogs are seen as creatures who teach us how to leap across the distances between our infinite hopes and our limited reality by dropping the weight of disappointment through the process of crying.
First Nation
Francis Horne sr.
Wood
| | |
| --- | --- |
| Made in: | 2011 |
| Size: | 84x33x25cm (inclusief standaard) |
| Price: | € 11500 |
| Financial lease: | € 363 per month based on 36 months, include insurance |
I'm interested in Weeping Frog Woman
Do you have a question?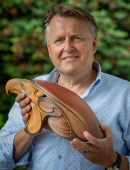 Barend is happy to help you, call +31 654 694 470