40% discount on all art works!
Please note: the prices shown on the website are excluding the discount. Discount is N/A on finance lease
Back to the overview
Reweti by Patricia Steur
Art Print on perspex
Reweti Hui Kaakahu Te Mete "I'm Maori and I'm proud!"
Application of moko: 33 hours, tattoo machine, traditional tools
"The moko on my legs acknowledges my ancestral canoes and their journey to Aotearoa. The moko on my back is a representation of my ancestral mountain, Mauoa. The design represents five hammer-head sharks, recognition of my five tribal affiliations. The moko on my abdomen is an acknowledgement of my mother: her ancestry and how she gave me life. Pühoro affirms my identity. It is the vehicle where I acknowledge my Maori ancestry. Wearing pühoro enhances a person's inner strength, self-determination, and courage to go places where you may not normally go. It also affirms my commitment to the growth and well-being of my culture." (from the book Dedicated by Blood)
Read more about the collaboration between ArtWise and Patricia Steur
Includes Certificate of Authenticity
Patricia Steur Photography
Patricia Steur
| | |
| --- | --- |
| Made in: | 2000 |
| Size: | 50 x 50 cm |
| Price: | € 1675 |
| Financial lease: | € 71 per month based on 36 months, include insurance. |
I'm interested in Reweti by Patricia Steur
Do you have a question?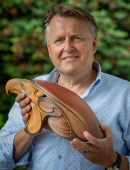 Barend is happy to help you, call +31 654 694 470