40% discount on all art works!
Please note: the prices shown on the website are excluding the discount. Discount is N/A on finance lease
Back to the overview
Manawanui
Roi Toia, Todd Couper and Susan Point
This very special, limited edition (55/99) art piece was created by Maori and First Nation artists and represents the two cultures together. If you look closely, you will see an eagle, a lizard and a stingray which represent the sky, the land and the sea. The Hokioi (native New Zealand eagle) traverses the realms of the overworlds; the thunder lizard protects the "life principle" of the land; and the Whai (stingray) patrols the domain of the underworlds.
The eagle was made by Roi Toia, the lizard by Susan Point and the stingray by Todd Cooper. Together, they made a beautiful whole, the Manawanui. The centre of the piece depicts the essence of life and the evolution of death, symbolised by the two opposing spirals.
NZ Artist, Maori & First Nation
Roi Toia, Todd Couper & Susan Point
Framed signed drawing
| | |
| --- | --- |
| Made in: | 2006 |
| Size: | 77x77 cm |
| Price: | € 3500 |
| Financial lease: | € 125 per month based on 36 months, include insurance. |
I'm interested in Manawanui
Do you have a question?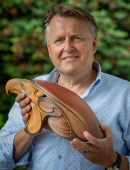 Barend is happy to help you, call +31 654 694 470