40% discount on all art works!
Please note: the prices shown on the website are excluding the discount. Discount is N/A on finance lease
Back to the overview
Bald Eagle
Todd Couper (1974 – Maori)
This beautiful bronze artwork is a limited edition recreation of an original Kauri wooden artwork. The eagle represented is the Hokioi eagle which has unfortunately gone extinct. Hokioi eagles lived in New Zealand and were the largest eagle species that ever lived. The artwork was made by Todd Cooper, an experienced Maori artist. The artwork is so perfect that it is almost unbelievable that it was man-made.
| | |
| --- | --- |
| Made in: | 2017 |
| Size: | 31x20x24 cm |
| Price: | € 6500 |
| Financial lease: | € 215 per month based on 36 months, include insurance. |
I'm interested in Bald Eagle
Do you have a question?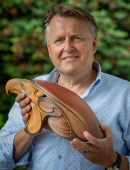 Barend is happy to help you, call +31 654 694 470