Back to the overview
Nurturing the land, caring for the oceans, providing for the generations (Sold)
Maia Gibbs (Maori 1988)
This beautiful, detailed drawing by Maia Gibbs represents a famous Maori saying: "We are a part of our environment, the environment is not part of us." If we do not make a significant change now, we will be known forever as the generation that allowed the world to be destroyed.
This beautiful Maori style drawing stands for nurturing the land, caring for the oceans and providing for the generations. The closer you get to the drawing, the more you'll get drawn in by the unbelievable details. The drawing has beautiful green and turquoise colours which will definitely brighten up your interior.
Maori
Maia Gibbs
Framed and signed original drawing
| | |
| --- | --- |
| Made in: | 2019 |
| Size: | 50x42 cm |
| Price: | € 650 |
| Financial lease: | € 26,50 per month based on 36 months, include insurance. |
I'm interested in Nurturing the land, caring for the oceans, providing for the generations (Sold)
Do you have a question?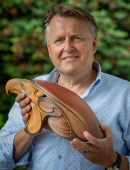 Barend is happy to help you, call +31 654 694 470